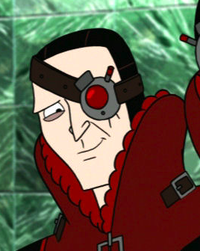 Watch
First Episode
Trial of the Monarch
Voiced By
Christopher McCulloch
Profession
Guild Dispatch Agent
skills
{{{skills}}}
Alliances
the Guild of Calamitous Intent
Character
Edit
Watch is a Guild dispatch agent who spends most of his time in a small room filled with TV screens -- along with Ward, whose antics often annoy him.
His likeness is based on that of Christopher McCulloch (aka Jackson Publick) who also provides his voice.
Episode Appearances
Edit
Ad blocker interference detected!
Wikia is a free-to-use site that makes money from advertising. We have a modified experience for viewers using ad blockers

Wikia is not accessible if you've made further modifications. Remove the custom ad blocker rule(s) and the page will load as expected.