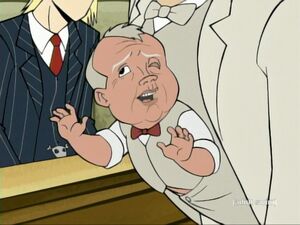 Tiny Attorney
First Episode
Trial of the Monarch
Voiced By
Christopher McCulloch
Profession
Lawyer
skills
{{{skills}}}
Character
Edit
Tiny Attorney was a lawyer who appeared in Trial of the Monarch attempting to prosecute the Monarch for the murder of a police officer. He later appeared in Showdown at Cremation Creek Part I where he is killed by Phantom Limb.
Episode Appearances
Edit
Ad blocker interference detected!
Wikia is a free-to-use site that makes money from advertising. We have a modified experience for viewers using ad blockers

Wikia is not accessible if you've made further modifications. Remove the custom ad blocker rule(s) and the page will load as expected.