The Buddy System
Talk

0
230pages on
this wiki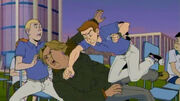 Cultural References
Edit
Dr. Venture dismisses the idea of a cartoon series called "The Venture Brothers."
Action Johnny is Jonny Quest, and Dr. Z is meant to be Dr. Zin, one of Jonny Quest's archnemeses.
The words and bizarre sentence structure that Dr. Venture uses to try and talk to the gorilla are taken from Koko The Gorilla and her online chat on AOL. His insistence that he "needs a kitten" is also a reference to Koko.
Dermott says that Triana looks like a Suicide Girl, a reference to an erotic Web site featuring pinups of goth/alternative girls such as Triana.
When asked by a camper "what happened to him" since his identity as Rusty as a boy, Dr. Venture responses, "I left Neverland and married Wendy," a Peter Pan reference used commonly as a metaphor for growing up.
Dermott states when drawing his pellet gun that "Mr Action has just joined the server", a reference to online multiplayer first person shooters.
A number of references involve the Pirate Captain:

The Pirate Captain's exhibit aims to cultivate interest in small-time diversionary menace (as opposed to the decidedly more grandiose career of super-villainy)... "chasing off meddlin' kids, and wearing rubber masks." This is a reference to his original character role as a parody of Scooby-Doo villains in "Ghosts of the Sargasso". The Captain then gives several instances of this endeavor, straight from Scooby-Doo, Where Are You!:

A ghost miner 49er is from "Mine Your Own Business"
The ghost pirate captain is Redbeard from "Go Away, Ghost Ship"
The Pirate Captain claims he has met Cher, and "the guy who did the voice for Inspector Gadget" (Don Adams). Both Cher and Adams made guest appearances on The New Scooby-Doo Movies.
The Pirate Captain also expresses admiration for his career by noting he looks like Johnny Depp, an obvious reference to the Pirates of the Caribbean films.
During the snapshots The Pirate Captain poses like rum mascot Captain Morgan.

The Monarch's computer resembles the original iBook G3, except it has his butterfly logo where the Apple logo would be.
Dean gives Dermott a pretty bad beating (a black eye, facial bruises and a busted lip) at 5:30pm. Yet his mother picks him up at twilight (2 hours later at most), and Dermott doesn't have a mark on him.
First Appearences
Edit