The 5.5 was a group of supervillains assembled by the Council of 13 for the purpose of dealing with the rogue vigilante and villain killer known as the second Blue Morpho. It consisted of five Council members (hence the 5 in the name) plus two nonmembers (Watch and Ward (they count less as non-members of the Council of 13, hence the .5 in the name).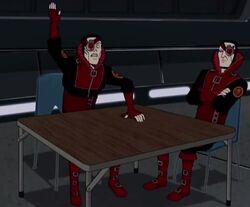 As they were not Council members, Watch and Ward were forced to sit at the kiddie table and seemingly had to raise their hands several times if they wanted attention.
Ad blocker interference detected!
Wikia is a free-to-use site that makes money from advertising. We have a modified experience for viewers using ad blockers

Wikia is not accessible if you've made further modifications. Remove the custom ad blocker rule(s) and the page will load as expected.