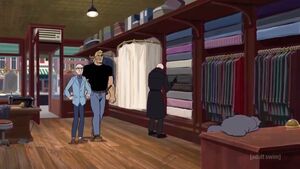 Specialty Tailoring is tailoring and clothes cleaners shop located in Little Italy, Manhattan. A Sicilian man named Enzo owns and operates the store; he specializes in antagonist (villains) and protagonist (heroes, super-scientists, etc.) attire. A very old cat sits on the check-out counter.
Ad blocker interference detected!
Wikia is a free-to-use site that makes money from advertising. We have a modified experience for viewers using ad blockers

Wikia is not accessible if you've made further modifications. Remove the custom ad blocker rule(s) and the page will load as expected.